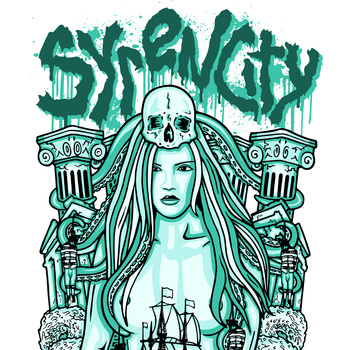 Here we go again another band from Rock Diabetes speak to us
We have contacted Syren City who 4 of us will be going to see at Rock Diabetes down in Trowbridge, Wiltshire, Rock Diabetes for the third year running presents a day full of live rock and heavy metal music,showing on two stages with non stop rock and metal.
Come along and good time watching Syren City and help raise cash for JDRF, a charity who fund research to cure, treat and prevent type 1 diabetes
What's the name of your band? What's the origin of that name? Have you changed the band's name before?
Syren City - The name came about from inebriated conversations about mythology, pondering about a city of Sirens
Please list the name and respective instrument of each band member.
Simon Roach - Vocals,
Adam Hopton - Guitar,
Ian Chadderton - Guitar,
Adam Armour - Bass,
Louis Catlett - Drums
What genre of music do you consider your work to be? Who are your major influences?
We get thrown into numerous categories, we don't sit comfortably in any. Influences come from bands such as Thrice, Incubus, Red Hot Chili Peppers, Bring Me the Horizon and Soundgarden
When did you form your band? What inspired you to make music together?
We've been a band since 2011, Simon and Adam were in a band together, Louis and Ian were in another band, we joined forces, Adam Armour is a sexy, recent addition
Who writes your songs? What are the main themes or topics for most of your songs? Do you think these topics will change over time?
We all contribute to the writing process, it's very much a group process. Lyrically each song's theme varies, from religious groups to addiction, Simon writes about people have been close to him but also writes about ficticious characters
How long have you all known each other? How did you meet?
Simon and Adam Hopton formed a band in Plymouth before moving to Bristol, they've known eachother about 9 years. Louis and Ian were in a Bristol-based band for a year before Syren City's inception. Adam Armour played in numerous bands across the country and came to jam when he found out we were looking for a bassist, that was about a year ago
Could you briefly describe the music-making process?
In the past we have started a song off with Ian or Adam coming to the table with a riff and building from there. Now the idea can come from anywhere, we tend to start with a section, write the song, tear it apart and re-write it under the microscope. It is a very rare occasion that we write anything one week and it is the same the next
Do you have a record label? Are you a member of any music organizations?
No we are totally independent. *sassy snap of the fingers* "we don't need no man"
What are your rehearsals generally like? Do you have a set time each week in which you practice or are rehearsals more spontaneous?
We run on a tight budget and with limited space so we have a weekly slot in a local warehouse
What can you tell me about your instruments? (i.e., Are you subject to brand loyalty or will you play with whatever's available? What made you choose the instruments you have now? Was it cost or was it a style/model/brand/colour preference?
When we first started, it was definitely a case of finding and using bargain equipment! The knock-off les paul, a korean rip off hollow body strat-style guitar, the starter pack bass, the broken cymbals, etc, purely because our bank accounts were not very happy with us! Now, however, we have found our sound thanks to the equipment we use. Our guitarists both use Marshall cabinets, Ad uses a Marshall JCM900 head and Ian a Blackstar ID100. Their main guitars are currently the Fender Telecaster Blacktop (Ad) and Gibson Les Paul (Ian). This combination really has opened our eyes to how amazing tone can make a song really shine out from the rest and how massively important it is to get right. Adam (Bass) has recently obtained an endorsement from Revelation Guitars as he bought one of their basses last year and fell in love! He loves a punky bass tone that cuts through the mix of a song and these basses were perfect for his style of playing.
How has your music evolved since you first began playing music together?
We'd like to think we've come on a long way over the last year or so. We like to challenge ourselves in terms of song structure and content. Our new EP, we believe would be testimony to it. We are finding our own sound and shaking any labels that pin us to certain other bands or sub-genres
Where is the biggest you have performed? What are your favourite and least favourite venues? Do you have any upcoming shows?
We played at the indigo2 Arena in London as part of Surface Festival, that was great. I don't think we've ever played a venue we didn't like. We've played some tiny venues to barely any people, but they all have their charm.
Which songs do you perform most frequently? Do you ever play any covers? Do you have a set play list?
We don't tend to do covers, although for the last Riff City show we did our own version of Kiss' 'Detroit Rock City' (Bristol Riff City) We do all our own songs, with shorter sets we prodominently play the new EP and any singles we have released
What have you got planned for the next 6 months? Hopefully something fantastic.
We have a UK tour planned and are still making bookings. We've just released our EP 'Escape' so will be releasing some singles from that, and we are already writing the next record. So plenty to keep us busy 15 What is your favourite festival (played) / (been to)? We have played Hit the Deck for the last two years which has been fantastic. We love playing festivals (I'm sure every band does) There's something great about the atmosphere created by the sheer mass of people coming together for the sole purpose of seeing live music and having a good time. It'd be great to get on some more. Rock Diabetes is going to be great, we've been buzzing since it was announced!
If you could sing one song on X-Factor, what would it be?
I'm sure we'd all have different ideas for this one. Something ironic, and hopefully offensive so we can give back all the shit they've put on us. Maybe some Rage Against the Machine. Although Si has been known to whip out a ballad or two after a few, Seal 'Kiss from A Rose' tends to make an appearance
What is the funniest thing that has happened to you recently?
Si got his hand crushed by an old lady's boob on the bus. As a band we have the worst luck so there's something on a weekly basis that goes wrong, we try to see the funny side, it usually involves getting robbed, breaking down, drunk and disorderly conduct, nudity - various stuff we can't go into in too much detail or people will disown us
What has been your biggest challenge as a band? Have you been able to overcome that challenge? If so,how?
Money. As we don't have any. We make our own videos and use all tools available to us, we try and pull in as many favours as possible. Luckily we have very talented friends who can help out with photography. Louis edits our videos like a beaut as well as getting behind the drums in them. We all work our asses off and basically every penny goes to this
What's your ultimate direction for your band? Are you seeking fame and fortune?
We make the music we want to hear and hope people want to hear it too. We want as many people to hear it. Fortune has never been a goal, if we could sustain ourselves off music it would be a dream
What advice do you have for people who want to form their own bands?
Stick to your guns, make what you want to make regardless of where it'll get categorised. Find like-minded people with the same goals as you, if someone's shooting for stars and someone else is doing it as a part-time hobby it'll end in tears
How can fans-to-be gain access to your music? Do you have a website with sample songs or a demo CD?
Our new EP is on itunes, Amazon, Spotify etc, but we also have physical copies on our merch site https://syrencitymerch.bigcartel.com
Is there anyone you'd like to acknowledge for offering financial or emotional support?
If anyone would like to support us financially right now we would happily acknowledge them, in fact we'll do most things for them, car wash? All our friends that have stuck with us on the emotional front and not got annoyed with our shameless self-promotion in the process of attempting to expand. Our families have all shown geniuine interest and given us support too, on tours, crashing on floors, wearing our shirts, they're the best. Everyone that has come to a show, bought merch, learned/shared songs, there's nothing better than the feeling of connecting with someone over a mutual passion for music
Any last words?
Thank you for having us, it's been bloody lovely
News Was Posted on: 8th October, 2014