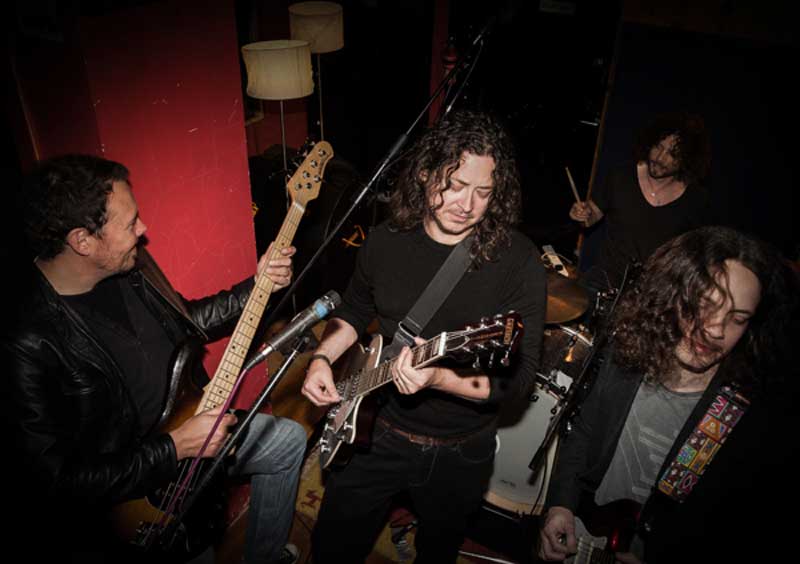 What's the name of your band? What's the origin of that name? Have you changed the band's name before?
We are Tess Of The Circle. The name originates from Lead male singer Tess Jones and his 'circle' of musical friends.
Please list the name and respective instrument of each band member.
Line up for 2016's AMPLIFY album
Tess Jones (Vocals, guitar)
Lee Clifton (Lead guitar, backing vocals)
Ben Drummond (bass)
Paul Stone (drums)
What genre of music do you consider your work to be? Who are your major influences?
TESS OF THE CIRCLE takes influences from across the board, from Grunge to Folk to Punk and a big smattering of 70's riff based rock.
When did you form your band? What inspired you to make music together?
The band formed in 2013. We released an Acoustic EP 'THORNS' whilst we set to work on our debut rock album for 2016… AMPLIFY. The music comes from real world experiences, biographical in nature. The band wanted to make something real - four guys in a room !
How long have you all known each other? How did you meet?
We put the line up together for the new album. We literally just went out and found the very best people for the job! Some of us have known each other for years, whilst others were found through mutual friends.
Who writes your songs? What are the main themes or topics for most of your songs? Do you think these topics will change over time?
The majority of our songs come from Tess Jones. He writes everything on acoustic guitar and then brings it in for the band to amplify. We also have a couple of songs co-written between Tess and his long time collaborator Lead guitarist Lee Clifton. The songs cover all manners of topics but usually tend to have biographical or story elements to them. We try to keep things real and relevant in ToTC!
Could you briefly describe the music-making process?
Sure ! Tess brings in a song written on a battered old acoustic! Usually the song arrangement is there and the song has structure but then the magic happens, working with prolific producer Gavin Monaghan we lay down the right bass hooks and Paul beats the drum skins to within an inch of their lives. We always make it about the song first and don't let over-production overshadow it.
Do you have a record label? Are you a member of any music organizations?
We are released by Vintage Voice Records Ltd who distribute through Cadiz/Universal Music
What are your rehearsals generally like? Do you have a set time each week in which you practice or are rehearsals more spontaneous?
Most of us work as session musicians in our other non ToTC lives, so we tend to rehearse as and when rather than religiously. We like to keep things fresh rather than playing for the sake of it ! The Live line up also includes 19 year old George Foley on bass and Charlie Cooper on drums with Tess and Lee.
What can you tell me about your instruments? (i.e., Are you subject to brand loyalty or will you play with whatever's available? What made you choose the instruments you have now? Was it cost or was it a style/model/brand/colour preference?
We are endorsed by Blackstar Amps, Tanglewood guitars and Ashdown Bass Amps. We specifrically chose these brands cause we use them and love them. On electric guitars,Tess uses a red Fender Mustang guitar and Gretsch guitars live whilst Lee uses a Strat and a vintage Jackson.
How has your music evolved since you first began playing music together?
I'd say the music has always stayed about aiming to write strong songs. So whether its punk, grunge, rock or folk themed we always put the melody and emotion first. In that way we haven't really evolved we kind of revolve ;)
How do you get psyched up for a gig?
The crowd is enough to psych us up ! We love our fans !
Where is the biggest you have performed? Do you have any upcoming shows?
We've played Glastonbury twice and numerous other big festivals, We are excited to play PLANET ROCKSTOCK 2016 in December !
Which songs do you perform most frequently? Do you ever play any covers? Do you have a set play list?
At the moment, we are promoting AMPLIFY so you'll hear a lot of songs off that record. We tend to veer more towards the rockier upbeat stuff when doing sets and leave the acoustic numbers for intimate moments. We don't tend to play many covers to be honest, it's about giving people a new vibe not rehashing the same old.
If you could play alongside any band which one would you pick?
Alice In Chains !
What is the funniest thing that has happened to you recently?
Breaking a string in front of 5000 people on the first song at a gig ! That was fun ;)
What has been your biggest challenge as a band? Have you been able to overcome that challenge? If so,how?
Getting people to hear new music is, in some ways, harder than ever and, in other ways, easier. Easier because you can release your own stuff but harder cause it opens the flood gates. You have to work hard to make the tunes stand out. I hope we are getting there and people like what we do.
When did you start to sell merchandise, and what do you have for sale? Where can people buy your merchandise?
We sell CD's and keyrings, T-shirts are coming soon. Come see us at gigs !
What's your ultimate direction for your band? Are you seeking fame and fortune?
We don't care about fame and you're hard pushed to make a fortune in the modern music world. What we do care about is giving people songs that mean something to them. Whether its an upbeat rock belter or an intimate song for the end of a hard day.
What advice do you have for people who want to form their own bands?
Do it for the love of music. Do it because you have something you want to say.
How can fans-to-be gain access to your music? Do you have a website with sample songs or a demo CD?

You can catch us at www.tessofthecircle.com and of course on Facebook etc etc
AMPLIFY is available on Ltd Edition CD at Amazon or instore at HMV and on all the usual digital places.
Is there anyone you'd like to acknowledge for offering financial or emotional support?
Our distributors Cadiz and Universal Music, our Producer Gavin and our Fans !
Any last words?
AMPLIFY your life !
News Was Posted on: 14th November, 2016