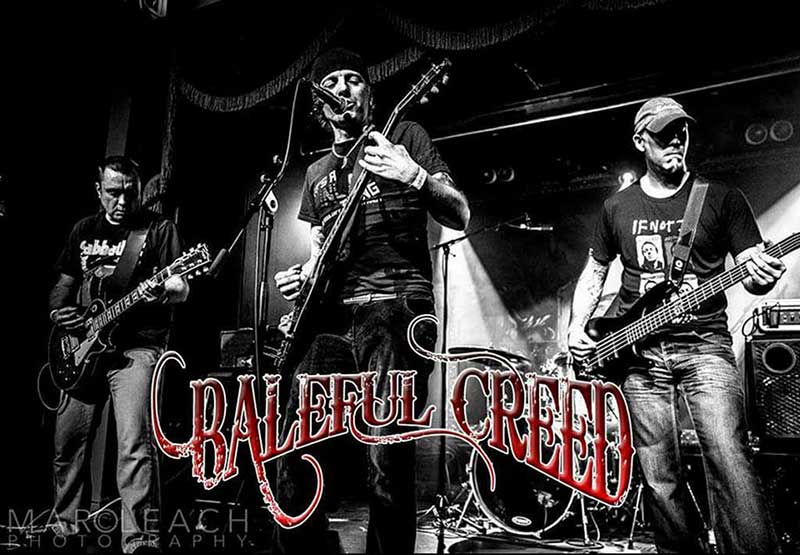 What's the name of your band? What's the origin of that name? Have you changed the band's name before?
We are 'Baleful Creed' – a name that first popped up in the early 90's for us to use but didn't become a reality until 2009. It means a dark and sinister set or system of beliefs – basically you want to be the top dog – doing anything and everything to achieve your goals – you cant trust anyone in a baleful creed lol. It's a name we love – it ain't being changed.
Please list the name, age and respective instrument of each band member.
Fin Finlay – Vocals and Guitar
John Allen – Guitar
Davy Greer – Bass Guitar and Vocals
Dave Jeffers – Drums
We're all in our mid-40's.
What genre of music do you consider your work to be? Who are your major influences?
I think we're easily described as a Heavy Hard Rock Band – with Classic Rock influences and a huge Stoner Rock/Metal guitar tone. Our major influences are Black Sabbath, Danzig and Fireball Ministry (that's the original three John and Fin set up at the start) but reviewers have added in names like The Cult, Skynyrd and Kyuss so we'll take those references gladly too!
When did you form your band? What inspired you to make music together?
Fin and John were just jamming out as a wee covers band – not really gigging, just for fun and blasting their eardrums. Fin tired of that side of things and disappeared for a year or two. When he returned he had a handful of demo tunes worked up for John to listen too. That was the seed sown right there and it got John into writing as well. The pair pulled in some bass and drum players to start working on the songs only this time the goal had shifted to become a live gigging band.
How long have you all known each other? How did you meet?
Fin and John go back over 20 odd years – both not really clear when they actually met but probably through some mutual friends – all into rock and metal. The two Dave's are fresh blood – revamping the engine room back in 2014.
Who writes your songs? What are the main themes or topics for most of your songs? Do you think these topics will change over time?
In the beginning it was Fin's songs that got us started. They inspired John to write as well and we all shape the songs as we see fit. Themes cover religion, spiritual feelings, death, pondering life after death, state of the world, the sad reflection of celebrity status in todays media and good old fashioned topics of sex, drugs and rock and roll lol. The world is always changing – who knows what will be the next inspiration to write about.
Could you briefly describe the music-making process?
Now its all hands on deck in the writing department but its usually a block of riffs are brought into the practice room and the band knock them about and shape them into a song for the vocals to get added later. Lyrics are mostly Fin's department, but everyone has a set of lyrics on the new album, so its been a real team effort.
Do you have a record label? Are you a member of any music organizations?
We're totally independent, so the albums are labelled BC001 and BC002 on the spines of the CD's – but there is no official 'Baleful Creed' record label, but we use the BC shield as our label logo so to speak. We never tried to be signed to a record label – we're pretty determined to make a good go of this under our own steam – but if some amazing offer comes along, we may have to change our policy lol.
What are your rehearsals generally like? Do you have a set time each week in which you practice or are rehearsals more spontaneous?
Rehearsals are usually on a weekly basis but fluctuate quite a bit – we all have full time jobs and families but we make it all manage.
What can you tell me about your instruments? (i.e., Are you subject to brand loyalty or will you play with whatever's available? What made you choose the instruments you have now? Was it cost or was it a style/model/brand/colour preference?
Fin uses Gibson guitars – and they have to be black I colour. They're a Les Paul Studio and a SG Standard.
John mainly uses Fenix Les Pauls, but has a Japanese Tokai SG and a couple of new Vintage guitars – most get upgraded with Gibson Tony Iommi Signature pickups.
Davy's main bass is an Ibanez Five String, the Korn signature model
Dave has a very sparkly DW kit.
Each instrument is just something we have all fallen in love with and prefer for our own tastes.
How has your music evolved since you first began playing music together?
For us it just feels natural to play what we do – its always been about seeking a groove but having that massive guitar sound. We might be throwing in more tempo changes or trying the odd tangent here and there but that's just something that has evolved itself and we don't feel its forced or anything – the best way of looking at it is listen to Killing Time EP and then stick on the new album – that's the distance we have travelled as a band.
How do you get psyched up for a gig?
Err – a few reviews have noted we are laid back, so we may give the impression of ambling onto stage and then just firing out the tunes. We all want to play our best, but there is no boxing match style build up lol
Where is the biggest you have performed? Do you have any upcoming shows?
We played the Mandela Hall in Belfast, a venue a lot of our bands we like have played like The Cult, The Almighty, Black Stone Cherry and The Black Crowes so that was quite a stage to play on.
We are just coming out of our cave after writing and recording the 2nd album, so we are just looking into bookings at the minute – but so far confirmed is Rockwich, in Northwich this August (2017) and Ilfracombe Rocks in Devon later in November this year.
Which songs do you perform most frequently? Do you ever play any covers? Do you have a set play list?
Since the two Dave's have joined, each new song we write gets taken out on stage, at this point we still have to debut 3 of then live, but the last year of gigging the main new tunes have been 'God's Fear',' Walking Wounded' and 'Memento Mori'. Our 100th gig that we completed just before Christmas 2016 we played live for the first time 'Devil's Side' and 'The Wolf'. Two keepers from the first album will be 'Autumn Leaves' and 'Crazy Man' but we'll rotate sets as best as possible – keep the tunes fresh for us and we do get asked for other songs too – which is an amazing feeling.
We have only played one cover in this lineup and that was only to mark our tribute to the passing of Lemmy – so we blasted out a version of 'Ace Of Spades'.
What have you got planned for the next 6 months? Hopefully something fantastic.
The new 6 months will see the 2nd album released – sorry don't have an album title at the minute. Booking some gigs to get back out there – hopefully more time spent on the UK Mainland and fingers crossed we'll get some festival invites too. Might be a promo video released as well and we have an amazing core of supporters that love getting a new shirt – so we'll have a new design based on 'The Wolf' coming out real soon.
What is your favourite festival (played) / (been to)?
Do we have to pick? Ahhh – in joint first place lol – Locally it was Sunflowerfest – such a wide range of music going on – and a good selection of rock and metal bands, excellent festival layout too. Further afield (no pun intended) it has to be Wildfire (in Scotland), which focuses on purely rock and metal and has an incredible dual stage / double marquee so one band just rolls on after the other on alternative stages. It means no rushing to set up on your stage – there is a fantastic stage crew assisting, top notch sound and just one of the best crowds that we have ever played to as well.
If you could play alongside any band which one would you pick?
Black Sabbath for John
Goatsnake for Fin
The Clash for Davy
The Stones for Dave
What has been your biggest challenge as a band? Have you been able to overcome that challenge? If so,how?
Our biggest challenge is the same thing all bands have and that is simply to be heard in amongst the masses of bands all clambering for everyone's attention – and that's a struggle at all levels – obviously locally to begin with, and then trying to roll that out to a national and international level. We have some amazing hook ups with DJ's that play us very regularly and new folk are picking up on us all the time – so its very exciting to see your music spread out from what you created in the practice room to around the world. We fully appreciate anyone that has given us their time to give us a listen – it really means a hell of a lot to us.
When did you start to sell merchandise, and what do you have for sale? Where can people buy your merchandise?
Outside of the CD's we started with t-shirts. The first being the old red logo, then we moved to the 'Scream' shirt – which was the opening still from the 'Crazy Man' video. Our 2016 Shirt was the 'Riffage' one, and we'll unleash 'The Wolf' this year. We also got some beanies done with a variation of our logo on it to suit the embroidery. Everything can be bought online via our Big Cartel Store:
What's your ultimate direction for your band? Are you seeking fame and fortune?
It's a laid back approach – not worrying about goals – so if you don't achieve them – you cant be disappointed. It's just pushing as hard and well as we can and seeing what happens – every new adventure and achievement is the reward. Fame and fortune would be nice but we're realistic too we hope – just enjoying playing.
What advice do you have for people who want to form their own bands?
Support one another – band mates, other bands – thank anyone that listens to your band – thank the promoter that put you on a bill – a lot of it is just common sense – make good music and enjoy playing it.
How can fans-to-be gain access to your music? Do you have a website with sample songs or a demo CD?
Bandcamp steams the album for free – and then it's our first port of call for anyone asking where to download it from. Physical copies of the album again are at the Big Cartel Store. The first album is on Spotify, Deezer, iTunes etc, so the 2nd album will follow suit on those platforms too. Plenty of stuff up on YouTube as well – and you can sample the live side of the band there with some gig footage.
Is there anyone you'd like to acknowledge for offering financial or emotional support?
Emotional support comes from our families – they probably put up with a lot as we commit time to practicing, writing in our own houses, gigging and promotional time spent chatting about the band.
Financially we fund ourselves, but thankfully due to amazing supporters we don't need to dig as deep in our pockets as we are totally blown away by how well the album and the band merch has sold – and to all corners of the globe – truly amazing for us four lads on a wee speck of an island.
Any last words?
Thanks for the opportunity to chat to you Craig – its been a pleasure and appreciate all the efforts you put into promoting bands through your website – big tip of the hat to you! Keep rocking!
News Was Posted on: 31st January, 2017