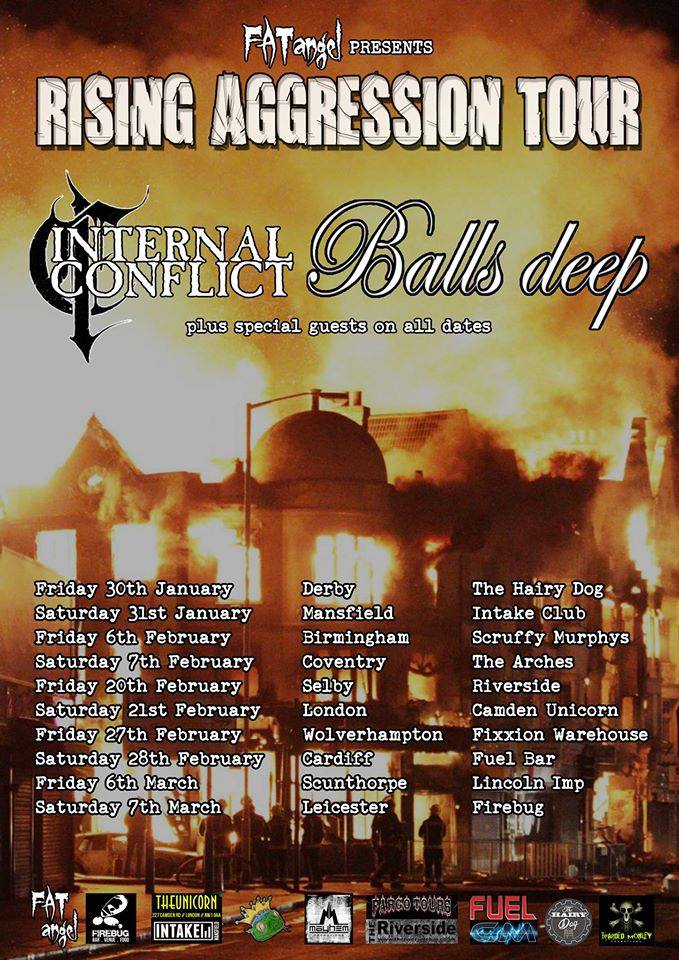 What's the name of your band? What's the origin of that name? Have you changed the band's name before?
The band is called Balls deep. My (paul's) wife came up with it when we were at an american muscle car show. It was on a bumper sticker.
Please list the name, age, and respective instrument of each band member.
Bez - vocals - old
Paul - guitar - old
Swampi - bass - old
Tim (standin drummer) - old
What genre of music do you consider your work to be? Who are your major influences.
Heavy metal in the same vein as Pantera, Snot, Dry Kill Logic.
When did you form your band? What inspired you to make music together?
We formed in 2011 from the back of 3 other stoke based bands. Me 'n' Bez had already known each other for years, when our bands split at the same time we decided to jam together. We have had a few members come and go which has led us to this line up.
How long have you all known each other? How did you meet?
Me(paul) and Bez met at college 15 years ago and all members were known through other local bands within the scene
Who writes your songs? What are the main themes or topics for most of your songs? Do you think these topics will change over time?
Bez writes all the lyrics and i write the riffs..then the other guys will come and put in ideas in. The songs are about having a good time...but not always portrayed in that way hahahaha.
Do you have a record label? Are you a member of any music organizations?
We have shit hot management with FATangel and that's all we need. We are Self-Signed and do everything ourselves.
What are your rehearsals generally like? Do you have a set time each week in which you practice or are rehearsals more spontaneous?
We all have family and we have to be pretty organised so most of them are the same time each week. Rehearsals change depending on what stage we are at, writing/touring/recording... but we just have a good time.
What can you tell me about your instruments? (i.e., Are you subject to brand loyalty or will you play with whatever's available? What made you choose the instruments you have now? Was it cost or was it a style/model/brand/colour preference?
We have all been playing a long time and have gone through many makes, models, styles of instruments. I think we have all found what we like because we aint really changed them for a good while.... but new/free instruments would be nice aswell :)
How has your music evolved since you first began playing music together?
Not sure it has evolved really. Each song just comes out the way it comes out if we like it we keep it. We don't tend to scrutinise them too much.
Where is the biggest you have performed? What are your favourite and least favourite venues? Do you have any upcoming shows?
Biggest gig we did was Bloodstock 2014 opening up the Sophie stage. We don't really have worst/fave venues we just go and play hard. Some gigs are amazing some can be shit but this can be down to a number of things. Some of our best gigs have been the quietest.
Which songs do you perform most frequently? Do you ever play any covers? Do you have a set play list?
We have 3 sets like a 30 mins, 45, and 1hr which we pretty much keep the same but as we write our new stuff we are mixing it about. We tend to pull Rot by Dry Kill Logic out the bag every now and again but that's died off as we have more of our own material.
What have you got planned for the next 6 months? Hopefully something fantastic.
Writing, and a few gigs to see the year out. Then we have a tour at the end of Jan right through to March which is a co headline tour with Internal Conflict Dates and venues are as follows:
Jan 30th Friday - DERBY Hairy Dog
Jan 31st Saturday - MANSFIELD The Intake Club
Feb 6th Friday - BIRMINGHAM Scruffy Murphy's
Feb 7th Saturday - COVENTRY Arches
Feb 20th Friday - SELBY The Venue
Feb 21st Saturday - LONDON
Feb 27th Friday - WOLVERHAMPTON Fixxion warehouse project
Feb 28th Saturday - CARDIFF Fuel Bar
Mar 6th Friday - SCUNTHORPE Lincoln Imp
Mar 7th Saturday - LEICESTER Firebug
What is your favourite festival (played) / (been to)?
Bloodstock and Bloodstock
What is the funniest thing that has happened to you recently?
Swampi falling on his ass on stage.
What has been your biggest challenge as a band? Have you been able to overcome that challenge? If so, how?
Finding a new drummer which is ongoing.
What's your ultimate direction for your band? Are you seeking fame and fortune?
What happens happens. Have fun don't expect anything.
What advice do you have for people who want to form their own bands?
Enjoy it.
How can fans-to-be gain access to your music? Do you have a website with sample songs demos
We are on all the usual Facebook, Twitter and Soundcloud. We also have a Bigcartel where you can purchase all our merch.
Is there anyone you'd like to acknowledge for offering financial or emotional support?
Chris and Angel our management who are members of our family who don't get the credit and recognition they deserve. Everything we have done so far we owe to them. And Tim our stand in drummer for staying with us.
Any last words?
Aggressive not progressive m/

News Was Posted on: 20th November, 2014