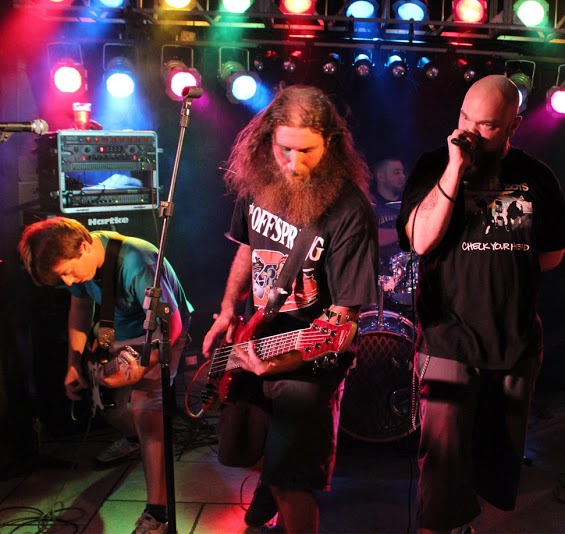 What's the name of your band? What's the origin of that name? Have you changed the band's name before?
44Mag, We are into shooting and wanted to name the band after a gun. The 44Mag is a loud powerful handgun ! The famous scene in Dirty Harry was also an inspiration.
Please list the name, age, and respective instrument of each band member.
Jesse Roedts, 31, drums,
Jason Miller, 33, Bass,
Pat Coifi, 28, guitar,
Jared Mondell, 29, vocals
What genre of music do you consider your work to be? Who are your major influences?
We are a mix of thrash, groove metal and Stoner rock. Are influences are Slayer, Pantera, Overkill, Black Sabbath, Clutch
When did you form your band? What inspired you to make music together?
Jason and I ( Jesse ) formed the band in 1999, Jason and I have been lifelong friends. We both loved metal and started to learn how to play.
How long have you all known each other? How did you meet?
Jason and I have known each other for over 20 years. Jared and Pat were friends of ours who took guitar lessons from the same teacher who taught Jason how to play bass.
Who writes your songs? What are the main themes or topics for most of your songs? Do you think these topics will change over time?
We write songs as a band. We all give our input in the creative process. The main themes of our songs is shit we deal with in our lives. Fucked up shit that we write about to vent the anger and frustration of day to day life. I don't think they will change at all.
Could you briefly describe the music-making process?
Pat and I get together in our jam room and start riffing. Ill lay down a beat we just jam until it feels right. We get a good riff and start building the song. Sometimes Jason Pat or I will have ideas, we bring them to the jam room and let it rip !
Do you have a record label? Are you a member of any music organizations?
No
What are your rehearsals generally like? Do you have a set time each week in which you practice or are rehearsals more spontaneous?
We jam a few nights a week, all depends id we are writing or getting ready to tour.
What can you tell me about your instruments? (i.e., Are you subject to brand loyalty or will you play with whatever's available? What made you choose the instruments you have now? Was it cost or was it a style/model/brand/colour preference?
We play ESP, Fender and Apex drums.
How has your music evolved since you first began playing music together?
Got a lot more complex and heavy
Where is the biggest you have performed? What are your favourite and least favourite venues? Do you have any upcoming shows?
We have played a MMA fight in front of a few thousand. We love to play everywhere ! We are touring Europe in Dec of 2014
Which songs do you perform most frequently? Do you ever play any covers? Do you have a set play list?
We switch it up to keep it fresh, we mix it up with new and old shit. We play covers when we have to but would much rather play our shit.
What have you got planned for the next 6 months? Hopefully something fantastic.
Touring Europe then coming home hitting the road then starting work on a new cd.
What is your favourite festival (played) / (been to)?
Liberty Fest and Smite Fest here in Pennsylvania.
What has been your biggest challenge as a band? Have you been able to overcome that challenge? If so, how?
Staying together for over 16 years. We do what we want, play music we like and don't give a fuck if anyone else likes it, that's how we stayed together so long,
What's your ultimate direction for your band? Are you seeking fame and fortune?
We want to play for a living, we are not seeking fame, we just want to rock out and party and see the world !
What advice do you have for people who want to form their own bands?
Quit now and go to college !
How can fans-to-be gain access to your music? Do you have a website with sample songs or a demo CD?
Check out our facebook page https://www.facebook.com/44magmetal

Is there anyone you'd like to acknowledge for offering financial or emotional support?
Our fans who continue to support us !

Any last words?
If you come see us play, please buy us booze !
News Was Posted on: 23rd November, 2014