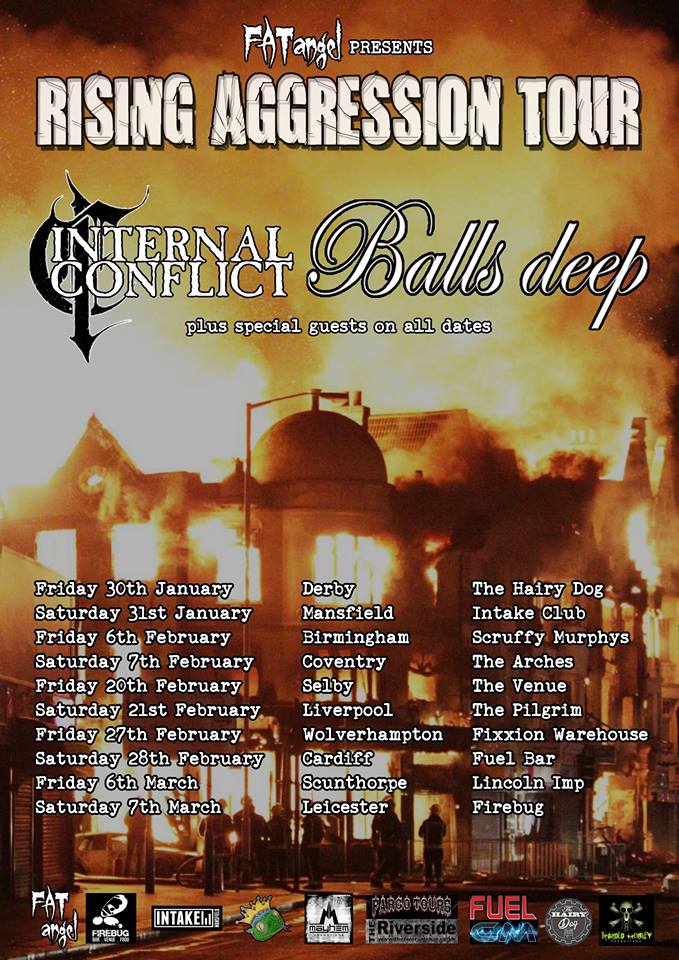 Rising Aggression Tour which will see Stoke-on-Trent aggressors BALLSDEEP and Leicester's metal titans INTERNAL CONFLICT hit the road together for what is set to be one of the most exciting tours of 2015.
BALLSDEEP, having played Bloodstock Festival twice over the last two years which included opening the festival in 2014 to an audience of over 3000 on the Sophie stage, are readying themselves to get back in the studio and record their highly anticipated second album.
The band's first album, released in summer 2013, 'A Thousand Nights', has had massive airplay on various radio stations. With a few line up changes during 2014, Ballsdeep are ready to hit the road and studio with the strongest full line up to date.
This tour will showcase brand new, never heard before material from the forthcoming second album.
Mainstays in the metal scene for over a decade, INTERNAL CONFLICT have taken most of 2014 to write and record their album, 'The Rising Tide' which is now set for official release on Saturday, March 7th, the concluding night of the 'Rising Aggression Tour'. A long time in the making, the album is sure to turn heads and solidify their place on the underground metal scene.
2013 saw the band win Metal 2 The Masses and play on the New Blood stage at Bloodstock Festival. 2014, Internal Conflict took the odd break from recording to make some special appearances on stage, including support to Biohazard on the UK leg of their tour.
This tour is to promote the release of 'The Rising Tide' album which will be available at all shows.
Having played together on a few occasions in the past, the bands complimented each other so well, that it seemed like a match made in heaven… or hell.
Ballsdeep are stated as one of the best live bands in the UK at the moment and Internal Conflict bring an intensity like no other. This combination and the way both bands bring a headlining performance to every show is good reason alone to make sure you attend one of these events.
News Was Posted on: 20th January, 2015