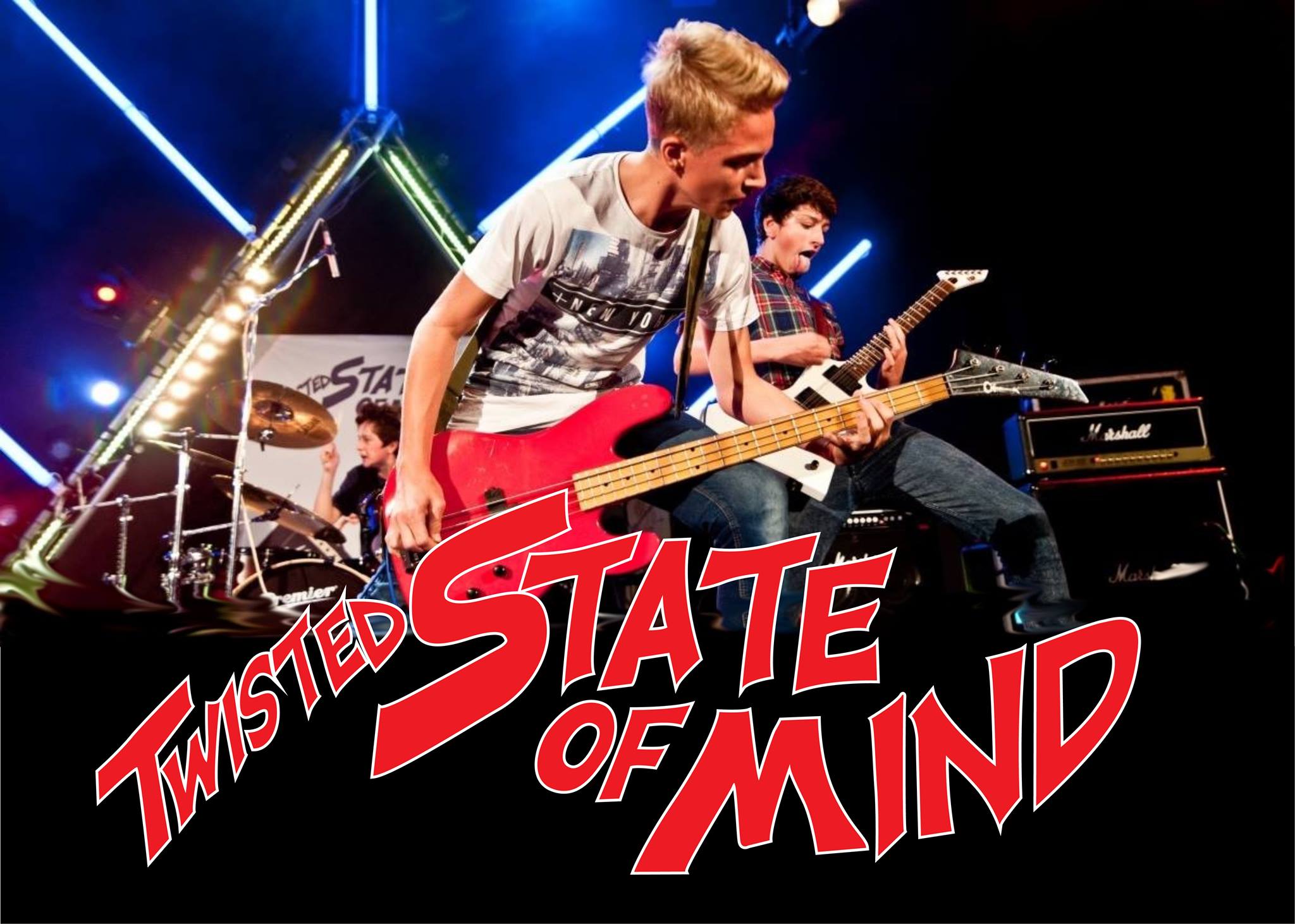 We recently had the pleasure of watching these guys and the energy they bring to the stage is fantastic we really enjoyed their set, Keep a eye out for Twisted State of Mind they have a bright future ahead of them
What's the name of your band? What's the origin of that name? Have you changed the band's name before?
Twisted State of Mind. The name came from the lyrics of a song (Sic) by Slipknot. The band gigged a couple of times as Overdrive" before settling on Twisted State of Mind.
Please list the name, age, and respective instrument of each band member.
Luke Ashby 14 years old, guitar and vocals
Ben Comley 14 years old, bass and vocals
Damon Marshall 15 years old, drums and backing vocals
What genre of music do you consider your work to be? Who are your major influences?
Our influences are our favourite bands, and we all listen to a lot of different bands but some of the bands we share in common are Trivium, System of a Down and Periphery. I don't think any of us would be happy to stick one label or genre on ourselves.
When did you form your band? What inspired you to make music together?
The band formed September 2011. Damon and Luke started jamming at Damon's house and went on to form the full band at the Witchwood School of Rock, they had several bass players before finally settling on Ben.
How long have you all known each other? How did you meet?
They've been friends since the age of 3, they met at play group.
Who writes your songs? What are the main themes or topics for most of your songs? Do you think these topics will change over time?
We write all the songs together as a band. The lyrics normally come after the melody line and we vary the themes.
Could you briefly describe the music-making process?
It really varies song to song. Sometimes we have lyrics/ a melody written first, and sometimes we just have a riff and we build it from there. A song usually comes together very quickly – usually within an hour, and sometimes literally 10-15 minutes to get the bones. To finish the song to a point where we're happy to gig it is usually a couple of weeks or more.
Do you have a record label? Are you a member of any music organizations?
We currently have a deal with Toil Records in Philadelphia, we released our first single "Letting Go" on February 14th with them, and we've got plans for a 6 track EP or maybe an album later in the year.
What are your rehearsals generally like? Do you have a set time each week in which you practice or are rehearsals more spontaneous?
We rehearse 3 regular times a week, and then sometimes more if we have something important to work towards, it could be getting new songs finished, or preparation for recording
What can you tell me about your instruments? (i.e., Are you subject to brand loyalty or will you play with whatever's available? What made you choose the instruments you have now? Was it cost or was it a style/model/brand/colour preference?
Ben started playing Dean basses, but settled on an 80's Charvel – mainly because it's a rock solid instrument that stays in tune. Luke also started on a Dean and went through a Gibson SG before his current guitar which is an ESP EX – mainly because of the active EMG pick ups. Damon plays a Mapex kit, and that's really based on how it sounds - if a cymbal costs £10, sounds great and works for him - he'll use it, regardless of brand. In different gig situations we've had to play through whatever gear has been available, which isn't ideal but we've always been happy to do that if the situation demands it.
How has your music evolved since you first began playing music together?
We were 11 when we started seriously writing. Our playing has come on lots technically since then so that's had a big impact, but probably the biggest thing for us has been on the vocals. Luke and Ben now share lead vocals and Damon also sings. In the early days Luke did all the lead vocals, but now we have loads of harmonies.
Where is the biggest you have performed? What are your favourite and least favourite venues? Do you have any upcoming shows?
The most important gig we've played has been at Dobbs in Philadelphia in 2014. We were given the headline slot at a festival there, which for 3 kids aged 14 from the UK was a real achievement. The O2 in Oxford is a great venue with a huge sound system and stage, but I don't think there's a least favourite venue – they've all been really good to us. We have lots of festivals and gigs booked later this year – we have 2 next week, both in our home town Witney – one with Bumblefoot from G'n'R and one acoustic gig for a charity. We hope to get out to the States again in the Autumn for another East Coast tour.
Which songs do you perform most frequently? Do you ever play any covers? Do you have a set play list?
As our writing has got better we've replaced songs, so we've never had a consistent set. Add to that our voices have changed over the last year or so and got much deeper – we can't actually sing some of the old stuff any more! We hardly ever play covers, but we did play "Gold" with Tony Hadley from Spandau Ballet, and we also played "Attitude" with Duff McKagan from G'n'R.
What have you got planned for the next 6 months? Hopefully something fantastic.
In March we'll be playing a couple of songs with Bumblefoot from Guns 'n' Roses which is really exciting. We should also be shooting a video in March too, just a live track to go up on Youtube to give people a taste of some of our new material. Hopefully we should be recording for Toil Records in the spring/summer. Also, there's the US tour soon which we're really excited about doing. From the previous US trips we discovered a love for the fast food restaurant Taco Bell, and a drink called Root Beer. It's such a cool experience hanging out with your bandmates in a different country.
What is your favourite festival (played) / (been to)?
The Witney Music Festival was our home town festival and was great to play. We've been to Download Festival a couple of times which was amazing!
If you could play alongside any band which one would you pick?
Probably Trivium, as they have been influential to all of us since young kids, we love all their albums and would love to meet them as they seem like such cool guys.
What is the funniest thing that has happened to you recently?
We recently went back to a venue, where the last time we played aged 12 we were escorted off stage by the Police for throwing water balloons at passing cars. Not funny at the time, but this time thankfully we had a laugh with the landlord about it!
What has been your biggest challenge as a band? Have you been able to overcome that challenge? If so,how?
Our voices changing has been a huge challenge. Obviously we sounded a lot different at the age of 11, so we overcame that by swapping harmony parts and dropping our tuning. Eventually though most of the old songs have had to go as there's only so far you can go with that. The solution has been to write new and better songs!
What's your ultimate direction for your band? Are you seeking fame and fortune?
Who wouldn't want to make a career out of doing what they love? If we can do that, then we'll have done a lot better than we could ever have dreamed.
What advice do you have for people who want to form their own bands?
Do it. It's great fun.
How can fans-to-be gain access to your music? Do you have a website with sample songs or a demo CD?
The best way to find our music is on sites like iTunes, Google Play and Spotify. We have a website, but that's actually a little behind at the moment and hasn't got the latest single up. There's always stuff on YouTube too.
Is there anyone you'd like to acknowledge for offering financial or emotional support?
The Witchwood School of Rock has been fantastic, and Sandy Chalmers from there has been our musical mentor since we began. Obviously starting as young as we did we have to thank our parents and families for financial and emotional support!
News Was Posted on: 26th February, 2015