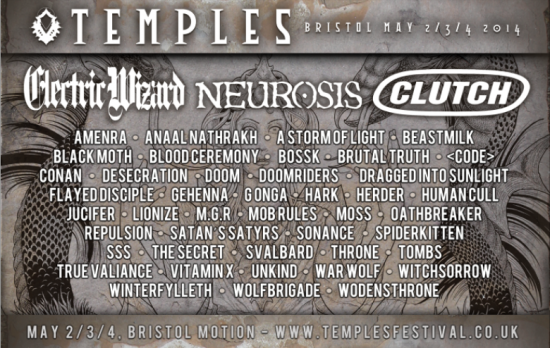 Temples Festival is a brand new independent music festival, taking place over three days in May 2014, at Bristol's MOTION venue.
With a quality line-up for their inaugural outing, the festival is set to easily make it's mark from the off, and will no doubt be a welcome heavy metal and alternative metal addition to the city's already world-renowned history of musical, artistic and cultural diversity.
Temples Festival will feature 46 artists – both international and domestic, across two stages along with live art, local food vendors & brewers, and a number of other interactive attractions yet to be revealed.
Interestingly, at a time when older, larger festivals are skipping years and headline acts are constantly and predictably recycling, Temples Fest went it's own way and booked mid-range headline acts, consequently selling-out weekend tickets and releasing additional weekend tickets on March 31st due to public demand.
Not too shabby a start, eh!
So, who should you head along to watch? You're pretty spoiled for choice to be honest. The refreshingly diverse yet superbly heavy line-up is exceptional. All killer, no filler, as the saying goes. Thankfully too, the talent has been equally spread over the two stages so you can have a wander back and forward and not worry about having to save a front row spot on the main stage for 3 days solid!
Headline acts Electric Wizard, the doomsters with a 20+ year career under their belt, Post-metal California stalwarts Neurosis and energetic US alt-rockers Clutch offer a triple whammy of eclecticism, with Temples having not succombed to the general festival plan of booking what is selling the most albums in the last few months, instead, focussing on musical pedigree.
The day splits have proved well thought out, with Friday 2nd May featuring one of this writers favourite bands,Anaal Nathrakh, the extreme metallers formed in 1999 who fuse black metal, grindcore, death metal and industrial to devastating effect. Other recommended listens are UK melodic yet traditionally bleak black metallers Wodensthrone, relative newcomers to the black metal scene and signed to Candlelight, the dissonant crush of grindcore act Brutal Truth for obvious reasons, Spider Kitten, a monstrously low end DIY ethos psych drone band from Wales, UK melodic Doom metallers Witchsorrow and UK death thrashers, Flayed Disciple,who up the tempo and provide the pit material.
New Yorkers, A Storm Of Light lead the way for the ones to watch on Saturday 3rd May, their mix of post-metal, sludge and rock further drifting these days into the heavier metal side, but still a captivating listen. 'Blood Eagle', the latest release from UK Doom act Conan shows exactly why you have to be front and centre along with Bossk, the recently reformed UK progressive post metallers, whose take on metal as a whole will have you salivating. Upping the tempo on Saturday are crust/hardcore punks Wolfbrigade, whose set at Temples marks their first live UK show since a hiatus and subsequent reformation in 2012. Homegrown Bristol hardcore death thrashers True Valiance are also ones to check out if their self described "Earth Crisis meets Slayer for a ruck" catchphrase tickles your tastebuds.
[temples fest line up 2014]
Sunday will likely see a lot of hungover attendees, but glug your Resolve and do not risk missing the final day. Aside from Headliners Clutch, who are in my opinion a perfect way to send the crowds home elated and buzzing, the day's music leading up to this is sure to appeal. Beastmilk absolutely must be watched, the Finnish darkwave band reminiscent of 80s Bauhaus and Joy Division bringing the sound back with brilliance, extreme metallers Dragged Into Sunlight bring a mix of death, doom and sludge to Sunday, sure to blow away post booze cobwebs and raise the temperature. Belgian act Oathbreaker will be throwing in their unique take on hardcore and can only be described as brilliant.
Lionize kick off the main stage and their southern tinged rock will get the smiles spreading, Herder downtune it into bowl rumble territory and SSS ramp up the thrash.
All in all, I can't imagine anyone walking away from any of the days without hitting Facebook and rubbing their friends noses in it with "What the f*uck, you so should have been here!"
Roll on May 2nd…
news courtesy of www.metalmouth.net
News Was Posted on: 3rd April, 2014