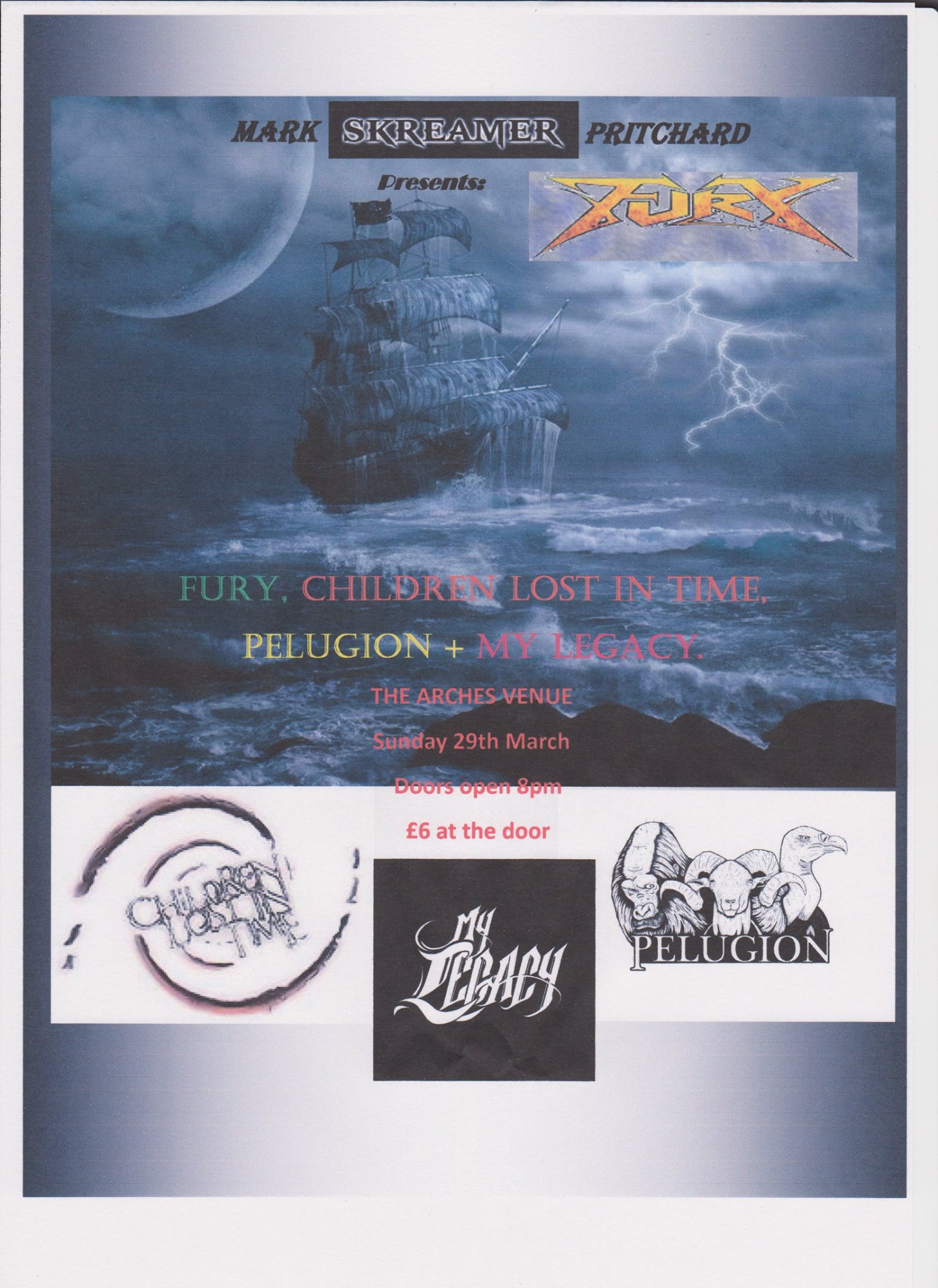 Gig Review by Mark Pritchard
On the 29th March 2015, my first-ever organised gig came to fruition with the likes of My Legacy, local Coventry 3-piece band Pelugion, Children Lost In Time (C.I.L.T.) and the always brilliant Fury.
It was a long journey for me personally to do something like this with not knowing what to do but the huge help from both Angel Merry from Fatangel Management and Marc Cross from C.L.I.T did so much for me along the way so I would like to say a HUGE thank you for all their help.
The first band to play on the night were my 'saviours' My Legacy in which they showed exactly how brilliantly they can perform during their set, the first time I have seen them play since watching them play last year, and they were absolutely top-notch, even though apart from the bands the only people there were close friends and family we all enjoyed watching them play and most were 'head-banging' to their songs.
The second band to play were the previously unknown local Coventry band Pelugion, I saw one of their songs on YouTube and I thought they were alright, in all honesty, but when they got on the stage to do their set everyone in the room were taken 'aback' including myself, they were completely out-of-this-world, during their set they played the song I had seen them play on YouTube called 'Serpents Mistress' and it was amazing to hear them play it in person.
The third band to play were my good friends from Children Lost In Time, I have seen them play a few times and every time they have gotten better and better, when I asked Marc Cross if he and the guys would like to be apart of the night, he said that they would be up for it which really cheered me up having seen them play no-less than 4 times and I enjoyed every moment of their set. Their song choices for the night were brilliant, from the quite known song 'clocks' to 'I hate god' the song choices were spot-on.
And last but not least, the headline band of the night Fury, the band of which my auntie specifically asked for for the night, I will admit that until the members of Fury turned up my anxiousness was high and when I saw them turn up I could have fainted due to all the pressure I had leaving my body all at once lol, speaking to them throughout the night I asked how they thought the other bands did, I only heard good things from them which was really relieving but when they took the stage near enough all friends and family on their feet ready for what Fury had to offer. During their set they played some of the songs that everyone loved from 'Britannia' to the song I personally requested the 'Drunken Sailor', the latter involving the person who it was for being asked to join Fury on stage to sing with them, whilst there was a short break for them to change guitars, each member did a solo of which everyone gave each of them a round of applause which they respectfully deserved.
I would like to give a huge thank you to Kesh Young and the guys of My Legacy, Andy Sweeney Brandon Balou and John Pittaway of Pelugion, Marc Cross Alex Rollason Kieran 'Chucky' Wickenden and Jordan Phillips of Children Lost In Time (C.L.I.T.) and Julian Jenkins Mart Trail Jake Beesley and Alasdair Davis of Fury for all helping me make my first-ever organised gig something I will always remember, thank you so ,much all of you it couldn't have been any better than it was.
News Was Posted on: 2nd April, 2015