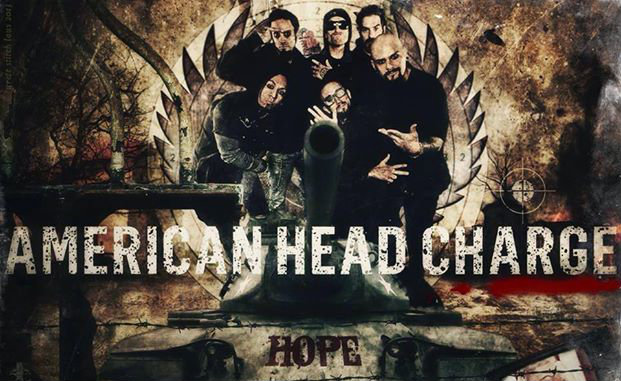 Following their U.K. tour in support of the "Shoot" EP, Minneapolis industrial metallers AMERICAN HEAD CHARGE have announced their long-awaited fourth full-length studio album, set for release in 2014. In connection with the new record, the band has announced an Indiegogo campaign to give fans the chance to contribute to the first AMERICAN HEAD CHARGE studio album in nine years, and the group is offering some incredible incentives. They include signed CDs, guitar lessons, a night out on the town in Las Vegas with the band, bandmembers coming to your house to cook you dinner and even the chance to have the band play a show just for you!
Comments AMERICAN HEAD CHARGE vocalist Cameron Heacock: "We are more than excited to get into the studio and work with producer Dave Fortman (GODSMACK, SLIPKNOT, EVANESCENCE) on our upcoming crowd-funded record.
"The music industry is such a different place these days, and we'd much rather have our fans in charge of the record as opposed to a bunch of suits whose only interest is the bottom line. Indiegogo, and crowd-funding options, have made this a possibility, and we're taking full advantage of it."
AMERICAN HEAD CHARGE announced in August 2009 that it was disbanding due to Heacock's "inability to continue on a musical career path."
The band's sophomore album, "The Feeding", came out in February 2005.
AMERICAN HEAD CHARGE released a DVD/CD entitled "Can't Stop the Machine" in April 2007 on Nitrus Records via Fontana/Universal. The 90-minute DVD chronicled HEAD CHARGE's career with a poignant tribute to deceased guitarist Bryan Ottoson, insightful interviews and no holds barred live footage. The companion CD featured unreleased tracks and a remix of the HEAD CHARGE classic "Just So You Know" by Wired All Wrong.
Check out there music video's here
News Was Posted on: 22nd April, 2014