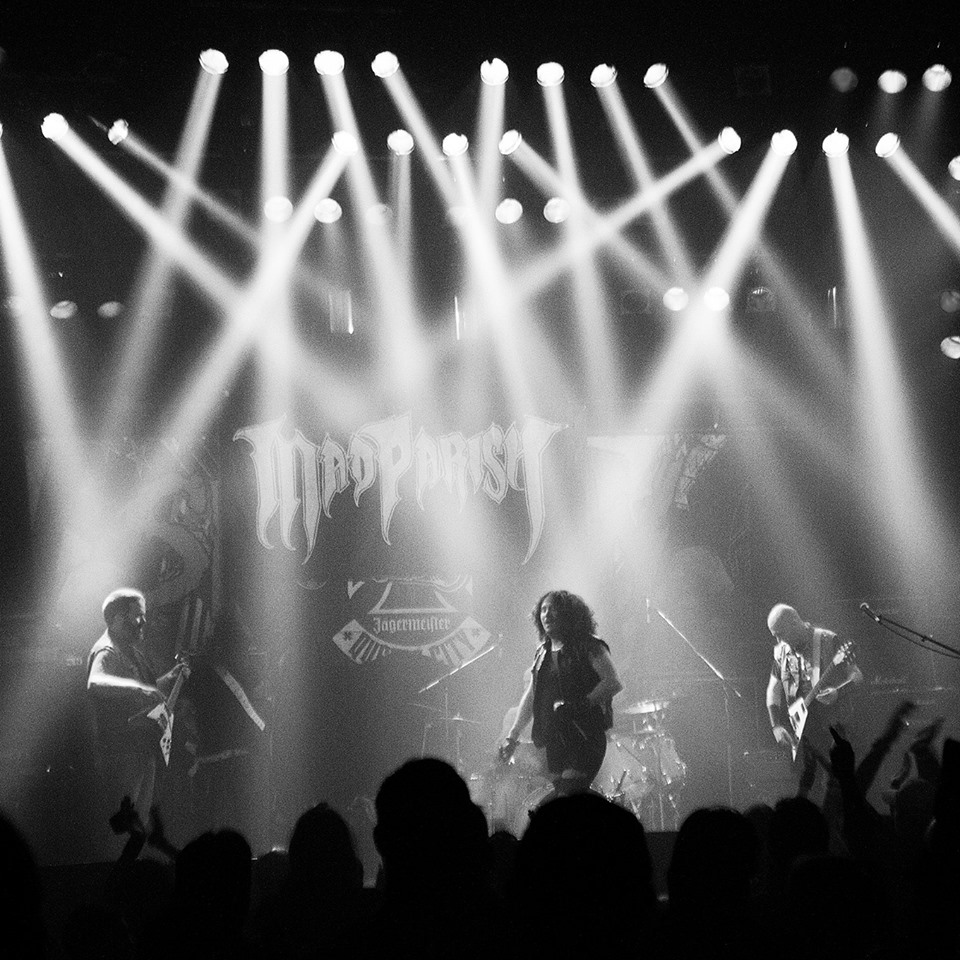 Mad Parish are a heavy metal band from Canada, who released their debut album 'Procession' in 2014. Featuring a triple guitar attack, their sound is a mix of power metal and hard rock resulting in a hard hitting, thunderous melodic aural assault.

'Darkness Befalls This Cursed Land' opens the album in an almost regal sounding vibe before the catchy, foot tapping rhythms kick in and the song chugs away at a mid tempo pace with very good, clean vocals. The high energy, hard rocking 'Doppleganger' is reminiscent of the early releases by Europe and Loudness. Sweeping guitars, pounding rhythms, powerful vocals and excellent guitar solos is the signature sound of Mad Parish which can be heard throughout the entire album. 'Without Chains' is a mid tempo, chunky, guitar chopping romp with a catchy sing a long chorus. 'A Stitch In Crime' is a high tempo, high energy slab of hard hitting power metal with a chugging melodic rhythm made famous in the early eighties via the NWOBHM movement.

'Mad Parish' is a speed metal romp that rocks and rolls its way through to a conclusion via some excellent guitar work, rhythms and harmonies. The title song 'Procession' is an instrumental that showcases the talents of the band and sounds almost regimental as it chugs away. 'To Build A Fire' has a cracking chugging rhythm not too dissimilar to eighties era Ozzy Osbourne. This a blistering foot tapper of a song with a superb vocal performance and its sheer thunderous nature will have you nodding your head in total appreciation.

Picking up the pace is 'Red Darren', all blazing guitars and rampant rhythms followed by the punk tinged, rock frenzy 'The Rite Of Belonging' as it romps its way through some superb riffing and a catchy sing a long chorus that will be loved by all in a live arena. Ending the album is the chugging 'Dawn Of The Unforgiven', a little raw with a hint of the brutal not heard previously on the album. It still smells of power metal and hard rock, it's just a band willing to experiment and push the boundaries of their sound in search of the new. A great end to a very good album.

Overall, a superb slice of power metal, excellent vocals, guitars and some very memorable songs that will have your feet tapping in delight.
Review supplied by frenzyfire.co.uk
News Was Posted on: 13th August, 2015