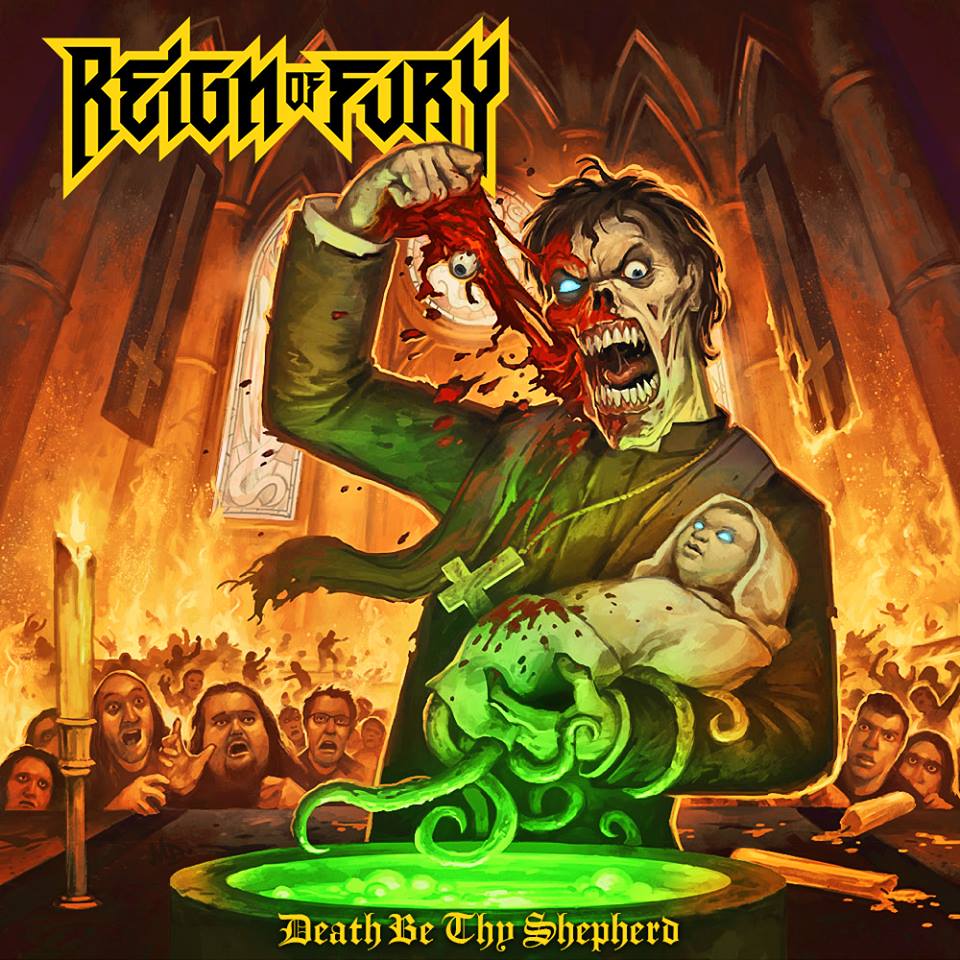 Reign Of Fury are a heavy metal/thrash metal band from the UK formed in 2006 and released their debut album in 2012. Extensive touring, including appearances at two Bloodstock Festivals have seen the band gather a loyal following. With the release of their second album 'Death Be Thy Shepherd', Reign Of Fury have stated their intent that they are here to stay and thrash the socks of ya!

'Faustian Mastery' opens the album in raucous fashion with razor sharp guitars and a pulsating rhythm that will have you off your seat jumping like mad and punching the air in delight. Thunderous chugging riffs, and at over eight minutes in length, plenty of opportunity to show off their musicianship and exactly why they are highly regarded. 'Harbinger Of Decay' is a solid mid tempo romp, with a catchy chorus and a twin guitar attack that is simply on fire. There are two standout songs on the album, the first, 'Hypnotise The Masses' is rampant and full of pace, yet has traits of both thrash and traditional heavy metal. The song manages to cross these genres effortlessly, with an infectious rhythm and some superb melodies.

All but one song on the album chime in at over six minutes long, giving the listener a massive about of music to listen to and enjoy. Guitar duelling, superb solos and a relentless, at times aggressive, pace will keep the true metal heads very happy indeed. 'Gates Of Sanity' swings between a foot stomping chug and flat out heavy metal, all the time retaining that catchy groove that Reign Of Fury have created. When writing reviews I always look for influences, bands from the past or those that are still around today ... not been able to do so with this band. Maybe their influences are so many and varied it's hard to distinguish them or quite possibly they have created a new sound.

Departing from the all out, in your face, demolish anything that stands in the way pace of the album so far, 'All Is Lost' creeps in on the back of an acoustic passage and some awesome guitar work and for just a moment you start to lift your lighters in the air and swing your arms from side to side. But, and it is a big but, without warning the song changes pace in dramatic style and it races off into the distance, looking over its shoulder shouting "come catch me". The pace is breathtaking, the pulsating drumming is fantastic and the guitar solos are brilliant. 'The Love Of A Dying God' returns the album to the bold, brash, thrash influenced heavy metal romp and mixes tempo and pace, fast and mid, and has an anthemic chorus that the mosh pit will love to scream along to.

'Sorrow Made Flesh' is an amazing song, mainly due to the fact that it is the rockiest song on the album, yet retains the thrash metal edge. Reign Of Fury have created a new style of song here that has all the elements from the genres of thrash, heavy metal, hard rock and traditional heavy metal. Just brilliant. However, brilliance exists in abundance in the ten minute plus, title song that ends the album. 'Death Be Thy Shepherd' has it all. It is one of the best songs by any band that I have heard for a number of years. I cannot praise it enough ... so I won't! I will leave it alone for you to find out for yourself just how awesome a song it is. Enjoy.

Overall, an outstanding album with a superb mix of thrash and heavy metal, brilliant musicianship and excellent vocals. Go get this album, now!
Review supplied by frenzyfire.co.uk
News Was Posted on: 7th September, 2015