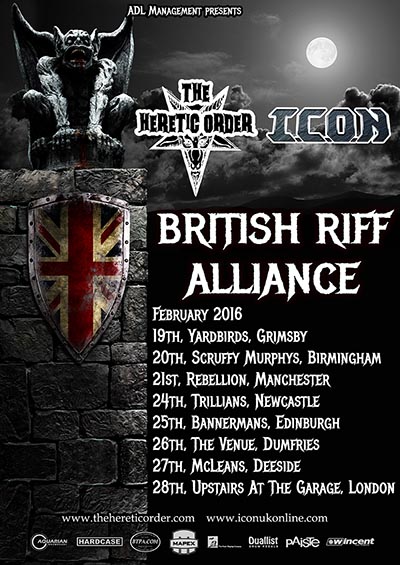 British metallers I.C.O.N and The Heretic Order will be joining forces and bringing their music to various corners of the UK in February 2016 in support of their latest releases.
In June 2015, I.C.O.N released their second album 'The Blacklist'
I.C.O.N are currently on tour with Operation: Mindcrime throughout Europe.
In September 2015, The Heretic Order released their debut album 'All Hail The Order' on Massacre RecordsThe Heretic Order have played Bloodstock, Hammerfest, supported Exodus, Diamond Head, Wolf, and played in the UK and in Europe.
19.02.16 - Yardbirds, Grimsby
20.02.16 - Scruffy Murphys, Birmingham,
21.02.16 - Rebellion, Manchester
24.02.16 - Trillians, Newcastle
25.02.16 - Bannermans, Edinburgh
26.02.16 - The Venue, Dumfries
27.02.16 - McLeans, Deeside
28.02.16 - Upstairs at the Garage, London
News Was Posted on: 30th November, 2015