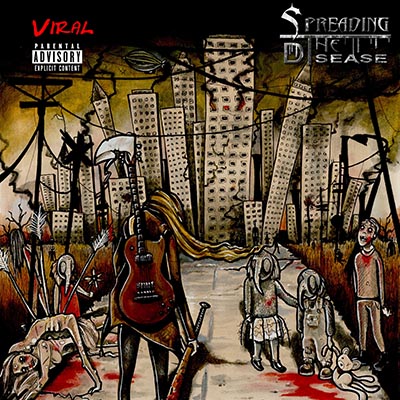 I was a little apprehensive about reviewing this E.P by Spreading The Disease as its not really my kind of music vocally but soon fell for its excellent execution and raw energy. These guys can really play and have some pretty impressive song writing skills too.
F.U.C.K.U
Huge opening on the back of a Pink Floyd esque intro, The drums are huge and pounding and preceded by a swell of chug and anger, also the opening line of "you I'm sick and tired of you" is spat with enough venom to carry the weight of the title.
There are no punches pulled here and the song pretty much seems to say "if you don't like me then you can fuck right off!" Some fantastic switches and changes towards the end to make for a great outro.
This is probably my favourite track and I highly recommend listening to it if you have something to break or smash.
Lost Generations
OK this intro has me thinking Pantera of something akin to it, another anger filled romp with a real face melter of a solo but sadly lacking some of the flair and craft of its siblings.
Bulldozer
Kicking in with a riff worth of starting any song with both guitars complimenting each other perfectly before dropping swiftly into a more laid back djent(ish) sound, bulldozer flits effortlessly between raw power and spacious ambience throughout. With the vocals swinging from screamo to menacing roar with the same ease.
It is here we are introduced to a quirky almost operatic backing vocals that would seem at home on an Unexpect song.
Evolution
Opening with a swift smack in the mouth followed by a drop into a gloriously hypnotic bass with a jangly guitar layered with a reverb soaked croaky spoken vocal makes for a very cool opening.
The band really go on to showcase their solid musicianship and excellent songcraft, effortlessly slipping again between all out aural assault and ambient spaces.
Some of the changes are as smooth as a roller-coasters arises and some harsh and angular like being thrown down a flight of concrete steps but all working brilliantly.
To summarise this E.P. Grew and grew on me and is for the most part very well written and preformed to a hight standard. I am not completely sold on the vocals and struggled a bit with the almost tongue in cheek backing lines, but that is just personal taste!
Musically brilliant. 7/10
Review by Gav The Omega Era
News Was Posted on: 18th January, 2016