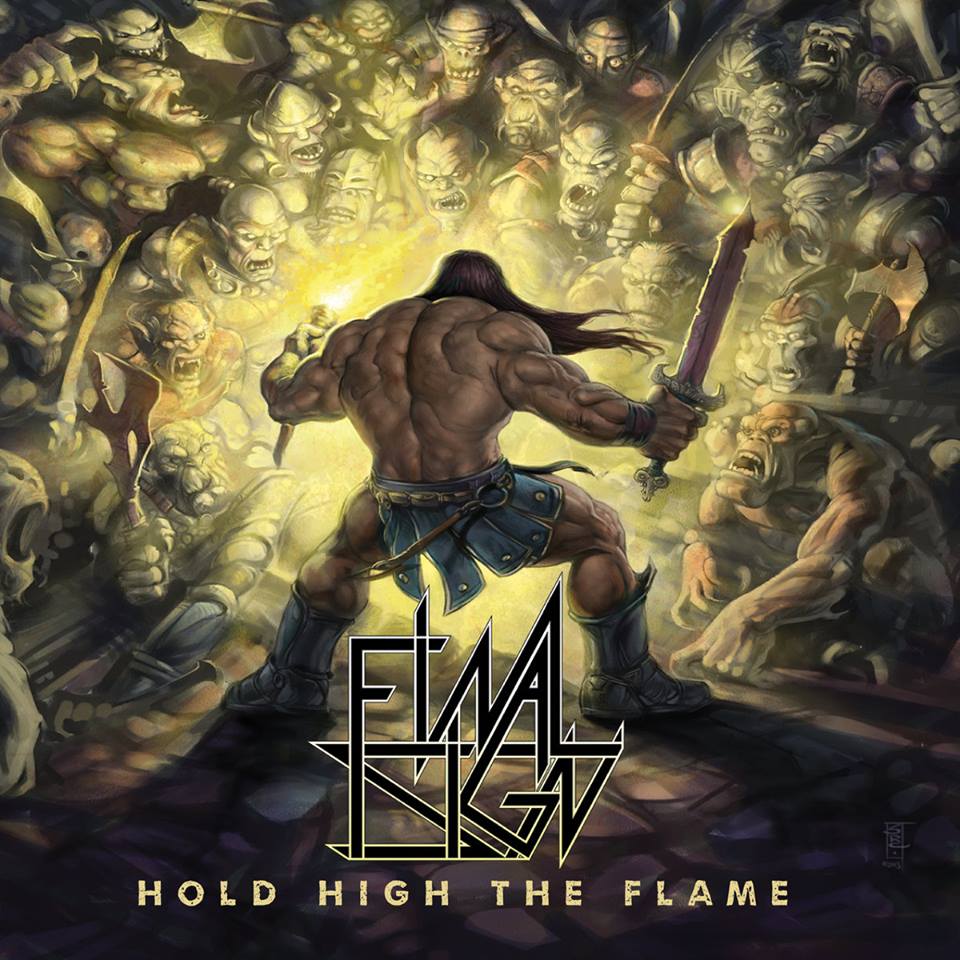 What's the name of your band? What's the origin of that name?
Shawn: The name of the band is FINAL SIGN. The name comes from the lyrics to "Children of the Sea" by Black Sabbath. We are all huge Sabbath fans, Dio fans, and metal fans in general and the name FINAL SIGN seemed like a good way to show that off to the world, to honour Dio's memory, and to show that we know where we come from and where our roots lie. Besides, it sounds cool, doesn't it? Ha!
Please list the name and respective instrument of each band member.
Brian "Hellstorm" Williams guitar,
Kevin Haverlah – drums,
Shawn Pelata – vocals,
Cliff Stankiewicz – bass.
Howard Baker played bass on the album, then stepped down before we started live shows.

What genre of music do you consider your work to be? Who are your major influences?
Shawn: FINAL SIGN unashamedly plays HEAVY METAL! Heavy metal, tried and true! We incorporate hints of thrash, doom, and even NWOBHM. But, at our core, we are a straight up U.S. POWER METAL band! We draw from Black Sabbath, Dio, Metal Church, Iron Maiden, Slayer, Exciter, Vicious Rumors, Helstar, Reverend, Heretic, and many more.

When did you form your band? What inspired you to make music together?
Shawn: Brian started the band around 2013. He worked on the music, utilizing different people at different times in the process. Once the recording was started, Kevin and Howard were on board. Then I was brought in during the spring of 2014 to write the lyrics and vocal structures. At that point, FINAL SIGN was born. Brian and I were in a band called K-Octave from 1999-2001 and we remained friends over the years. We always wanted to do more music together, and this was the right time. We just truly love heavy metal and we feel we have a strong musical chemistry together. His riffs and lead shredding combined with my lyrics and voice just creates something we feel has a great vibe! We are very excited about FINAL SIGN. It's real, it's honest, and I think people connect to that.
How long have you all known each other? How did you meet?
Shawn: Well, as I stated, Brian and I were in K-Octave together. I was also briefly a part of October 31 with him and King Fowley. Cliff was also a part of K-Octave with Brian and me. Kevin and I were in a band called Trampled Underfoot together before I met Brian. Brian and Kevin were in a band together called Obey Bizar at one point as well. So, we've all known each other for quite some time. It feels very natural to be making metal again, together.
Who writes your songs?
Shawn: Brian writes the riffs and arranges them with Kevin. I'll come in and write lyrics and vocal structures and occasionally suggest arrangement changes.
What are the main themes or topics for most of your songs? Do you think these topics will change over time?
Shawn: I write about human issues and fantasy. Sometimes the human issues are wrapped up in fantasy. Haha! I try to take common issues we all deal with in life and wrap them in lyrical finesse and allegory and make them fit in with the music. As long as we are human, we will all have issues to deal with in our lives; good, evil, light, darkness, pain, sadness, anger, rage, betrayal, etc. So, I don't think my lyrical angles will have to change much. Stuff always happens and I'll always write about it.
Do you have a record label?
Shawn: FINAL SIGN is a very proud member of the Divebomb Records family.
What are your rehearsals generally like? Do you have a set time each week in which you practice or are rehearsals more spontaneous?
Shawn: We rehearse every two weeks and, lately, we've been going over the set list for our live shows. We are slowly working in new material for what we hope will be our second album. But, we have mainly been preparing for our live shows and working in Cliff.
Do you have any upcoming shows?
We are working on putting together many more shows as we speak.
Do you ever play any covers? Do you have a set play list?
Shawn: We have a set list. We also have a couple of different covers worked up, just for fun. We'll play different ones at different times.
What have you got planned for the next 6 months? Hopefully something fantastic.
Shawn: We will be playing as many shows as we can. We will also be working on new material for what we hope to be our second album, as well as a possible split single with another band. We also are working toward getting a vinyl release for 'Hold High The Flame'.
If you could play alongside any band which one would you pick?
Shawn: One? Dio-era Black Sabbath. It's my favourite era of Sabbath, and of metal in general for that matter.
What has been your biggest challenge as a band? Have you been able to overcome that challenge? If so, how?
Shawn: So far, our biggest challenge was finishing the album. There were many obstacles we had to overcome in terms of finances, travel, weather, and other issues making the recording and mixing process take much longer than we had hoped. It is our hope that we can complete the second album much, much quicker once we start.
What's your ultimate direction for your band? Are you seeking fame and fortune?
Shawn: We are not seeking fame and fortune. Music is meant to be heard, so of course we want our music to be available to metal fans across the world. But, as everyone knows, heavy metal is not a "career opportunity". We play heavy metal because we love it. That sums it up. We want to contribute to the global heavy metal culture with our music. We want to see it thrive and live and breathe. We want the fans to latch on to it and to enjoy it for years to come. Our only goal is to play heavy metal for anyone who loves it as much as we do.
What advice do you have for people who want to form their own bands?
Shawn: Make music because you love it. Everything else has to be secondary. You have to love what you do. Once that focus shifts, and you begin making music with the goal of making money, or making someone else happy, you've lost the plot and it will show in your music. Always love what you do. Make sure everyone in your band loves being in the band. Everyone has to be on the same page. When you stop loving it, stop playing.
How can fans-to-be gain access to your music? Do you have a website with sample songs or a demo CD?
Shawn: Here are the links to our music:
Facebook, Official Blog:, Buy CD:, Stream/Download digital album:
Is there anyone you'd like to acknowledge for offering financial or emotional support?
Shawn: We want to offer our sincere appreciation to the heavy metal fans across the world who have listened to our music, shared our videos, bought our CD, told their friends about us, sent us encouraging messages, and waved the heavy metal banner for FINAL SIGN!!! We cannot thank you enough for your support and we hope to make you proud for years to come! We also want to thank Divebomb Records, Steven R. Cobb Illustration, and AllHeavyMetal.net
Any last words?
Shawn: HOLD HIGH THE FLAME!!!!
News Was Posted on: 13th March, 2016