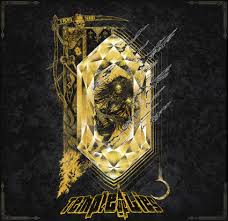 For the last few weeks I have been listening to British Metal/Rock/Stoner Rock band Temple Of Lies new album 'From Sand',
From Sand was produced & mixed at The Paddocks studio by Ross Hillard and Temple Of Lies, mastered at Safe And Sound.
Temple Of Lies are:
vocals - Si Shaw,
guitar - Jon Scranney,
bass - Simon Ball,
drums - Alex Gamble
I hadn't heard of them when I was asked to review them, This is always a good thing as I had no idea what to expect I have listened to this album quite a lot (a lot being an understatement) and I just can't get enough of them, each song on this album is unique with different sound from the last. few of the songs on this album remind me of some well known bands including for example Placebo and Metallica.
This album is an absolutely great album too listen to in any situation because it makes you feel like standing up and facing the day head on which is awesome to have, a band with 'no holds barred', since receiving this album to review I haven't looked back and that is something I am quite fond of when doing reviews.
This album is so good but the one song that stood out the most to me is track 6 'Riff Machine' this song basically has what it says, riffs amongst an amazing beat and brilliant vocals, I can't think of anything better to say about this song but that it is absolutely brilliant.
Listening to this album has made quite the impact on me and with that in mind I am going to give this a rating off 9/10, absolutely brilliant album with amazing songs.
Review by Mark Pritchard
News Was Posted on: 20th March, 2016