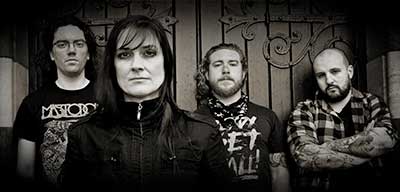 What's the name of your band? What's the origin of that name?
Impavidus. It means "Fearless" in Latin.
Please list the name and respective instrument of each band member.
Michelle Adamson - Vocals
Gavin Smith - Guitar
Patrick McBride - Bass and Vocals
Chris O'Rourke - Drums
What genre of music do you consider your work to be? Who are your major influences?
It's melodic/groove metal. We're influenced by the likes of Arch Enemy, Machine Head, Carcass, The Haunted, At The Gates, Soulfly - not forgetting other local bands.
When did you form your band?
July 2015
How long have you all known each other?
We've played together in other bands, My Wooden Pillow and Driven Apart.
What inspired you to make music together?
When My Wooden Pillow went on hiatus, Chris and Patrick decided they wanted to continue working together and maybe start something new. We (Chris and Patrick) wanted Michelle as the vocalist. Chris had worked with Gavin in Driven Apart so he was a natural choice for guitar. After the first session it was clear we had the right chemistry.
Who writes your songs?
It's a collaboration - all the songs have been written as a band collectively, with Michelle and Patrick taking the lead on lyrics.
What are the main themes or topics for most of your songs?
Our themes and topics tend to be global and political events. It's our personal views.
Could you briefly describe the music-making process?
The songs generally start with riffs being brought in from home and then we jam stuff out, finding out what works and what to keep etc.
We don't stick to one song until it's finished. There's a whiteboard full of ideas and structures, which we breakdown to construct the songs. We give our riffs nicknames (usually the names of other bands that inspire or influence us) so we know what they are.
Every new idea we like is recorded and kept for reference. It's something we never really did in other bands, but it has become a massive help in writing material.
The good thing about Impavidus is there aren't any rules; no restrictions, no preconceived ideas of how the music should sound. Every new idea is fully explored regardless of who brought it the table.
Do you have a record label? Are you a member of any music organizations?
Not at the moment, but would like to think someone is willing to help and offer support. We have tried to kick-start the process with our first EP which we've put out on CD, Spotify and iTunes.
What are your rehearsals generally like? Do you have a set time each week in which you practice or are rehearsals more spontaneous?
We practice twice a week as much as we can. We all have full time jobs, some of us have kids, but we always make the best use of our time when we do practice.
What have you got planned for the next 6 months? Hopefully something fantastic.
We will carry on writing new material, playing more gigs, spreading the word and produce a music video.
What is your favourite festival (played) / (been to)?
Bloodstock is a favourite amongst us all. My Wooden Pillow played Bloodstock in 2012 after winning the "Metal 2 The Masses" competition.
If you could play alongside any band which one would you pick?
That's a tough one as we all have our favourites, but would probably have to say Machine Head
What has been your biggest challenge as a band?
The biggest challenge any band faces is writing their next song. We wrote four songs quite quickly. We are writing another four tracks which are currently under construction.
When did you start to sell merchandise, and what do you have for sale? Where can people buy your merchandise?
We released our Debut EP in Janaury 2016
You can download us too from Spotify and iTunes
What's your ultimate direction for your band? Are you seeking fame and fortune?
We love to play the music we enjoy listening to. Of course, we want people to listen and give us feedback which we all thrive on. We have had some really good reviews so far which is positive. It's every musicians dream to make a living from doing something you love, so we wouldn't say no to the fame or the fortune. For us the love of music comes first.
What advice do you have for people who want to form their own bands?
Be yourself, don't limit your options and be passionate about what you do.
Any last words?
Remain honest and maintain your integrity. Don't follow trends deliberately.
News Was Posted on: 10th April, 2016