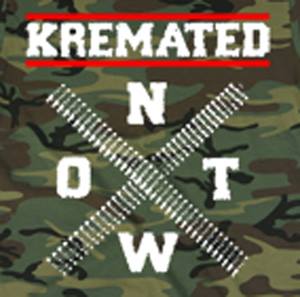 AHM : What's the name of your band? What's the origin of that name? Have you changed the band's name before?
I sat down one night and thought up a bunch of names off the top of my head, and picked the ones that weren't ridiculous. Nobody else was using "Kremated" so I thought "I'm having that!". We have been Kremated since the start, no changes.
AHM : Please list the name, age, and respective instrument of each band member.
Pete (43) Vocals and Guitar,
Jimmy (24) Drums,
Marcus (21) Guitar,
Elliott (34) Bass
AHM : What genre of music do you consider your work to be? Who are your major influences?
Kremated
:
Broadly speaking, we are Thrash Metal / Crossover.
The main influences on the band are Celtic Frost, Terror,
Voivod
,
Anthrax
, Knuckledust, Venom, Crumbsuckers, Varukers and Sodom.
AHM : When did you form your band? What inspired you to make music together?
Kremated
:
Spring 2011 I guess, I was demoing some ideas for tunes in my home studio and got 3 tracks together. I was pretty pleased so I started on some more and thought it would be worth trying it out with a full band. It took me a while to get a suitable lineup together, but we finally reached Kremated Mk1 around Xmas 2011
AHM : Who writes your songs? What are the main themes or topics for most of your songs? Do you think these topics will change over time?
Kremated
:
I (Pete) write pretty much everything, the basic structures, riffs and lyrics. Once we have swapped MP3s and listened, everyone has ideas to throw in, and the song goes from rough to a workable version quite quickly in the rehearsal room. A couple of band members have contributed parts (notably Marcus), and the newer material will have more input from the band.
Topics and themes for Kremated are mostly about real life situations. There is the odd flight of fantasy ("Mechanised Bloodbath" etc) but on the whole, I like themes that people can relate to. I love Sci-Fi but I'm trying not to incorporate too much of that into the tunes, you can relate better to a song about a night out than you can to wizards on Neptune.
AHM : How long have you all known each other? How did you meet?
Kremated : I've know Jimmy's family for years, Marcus and Elliott replied to adverts I put out, and just seemed to slot in perfectly. It just kinda happened.
AHM : Could you briefly describe the music-making process?
Kremated : Haha! usually lying in bed trying to get to sleep, there is a riff bouncing round my head. Then try to work out if I really came up with it or if its a long lost riff from some obscure band I like. Then I hum it or strum it into a little recorder or write it down, and when I get the urge, I'll sit down with the computer and bash it into a rough demo. I do the same with lyrics, just snippets here and there. Sometimes they develop into full songs, sometimes they are sitting on my hard drive for months until I look through them again and have a brainwave. it's not very glamorous! When it happens, it happens, I don't like forcing myself to finish off a tune or a verse.
AHM : Do you have a record label? Are you a member of any music organizations?
Kremated : Yes, I run my own label (Fiery Gun Hand Records), and we self-release. We are registered with PRS, PPL and MCPS.
AHM : What are your rehearsals generally like? Do you have a set time each week in which you practice or are rehearsals more spontaneous?
Kremated
:
Yes, we have a fairly regular rehearsal schedule. Same as most bands really, set up the gear, lark around for a bit then jump into solid work. We should probably do it more often, but the various band members are spread quite far over the London area.
AHM : What can you tell me about your instruments? (i.e., Are you subject to brand loyalty or will you play with whatever's available? What made you choose the instruments you have now? Was it cost or was it a style/model/brand/colour preference?
Kremated
:
Jackson/Charvel all the way. Personally, I think they just feel lovely, I have been playing them for years and have never seen a reason to change, I know where I am on a Charvel neck. I recorded bits and bobs on both albums with my trusty Gibson SG, but they aren't really suited to high volume/high gain shows, and I need a tremolo for some songs that the SG doesn't have. Marcus was already a Jackson player when he joined. Elliott was using G+L basses, but I let him try out one of my Jackson basses and he loved it, so that explains the headstock logos. We aren't endorsed and we aren't trying to make a point, we just all like Jackson/Charvel.
AHM : How has your music evolved since you first began playing music together?
Kremated : We have got more aggressive, that was always the intention, but you need a chemistry within the band to get to wherever you want to go. The more comfy you are playing with the rest of the band, the easier it is to tweak to your liking, and develop a style. We're getting there quite nicely, no doubt we'll change a little every time we write a new song, but it will always sound like Kremated.
AHM : Where is the biggest you have performed? What are your favourite and least favourite venues? Do you have any upcoming shows?
Kremated
:
Biggest show we have played was Bloodstock 2013, we had a full house for that one, and it felt great.
My favourite venue to play so far is split between the Camden Underworld or the Gravesend Red Lion.
As for the worst one, I won't mention to avoid upsetting the promoter, but it was a total shambles from start to finish, they didn't even know how to set up their own PA system, and we had to muck in, then there was "no money to pay the bands". Suffice to say, we only did one show there and have refused to play there again.
The next shows we are playing are Plymouth on Oct 10th, Cardiff on Oct 11th, Southampton on Oct 26th and Camden on Nov 1st.
All our upcoming shows are regularly updated on our
Facebook
AHM : Which songs do you perform most frequently? Do you ever play any covers? Do you have a set play list?
Kremated : I reckon "Thrash Ain't Dead", "Mechanised Bloodbath" and "Total Warfare" are the most played songs, but we like to mess around with the setlist so it doesn't get stale. Once we got to about a year in and had more than 40 minutes of material, it became a lot easier to do this, and we can chop and change at will now.
We have 4 covers in our repertoire, but we tend not to pull them out unless we want to extend a set, we'd rather be known for our own material than someone elses. They are "I've had Enough" (Long Cold Stare), "Genocide" (Varukers), "Metal Anarchy" (Warfare) and "Spit My Rage" (Terror)
AHM : What have you got planned for the next 6 months? Hopefully something fantastic.
Kremated : First thing we need to do is find a new drummer, as Jimmy is emigrating in November. It is a very sad loss, but we are behind him in his decision. We have a few tunes piling up that we need to develop, and we hope to get the lineup stabilised and start writing album #3 in 2015.
AHM : What is your favourite festival (played) / (been to)?
Kremated : Played: Bloodstock, closely followed by Beermageddon.
Been to: Bloodstock
AHM : If you could sing one song on X-Factor, what would it be?
Kremated
:
"Pentagram" by Possessed
AHM : What is the funniest thing that has happened to you recently?
Kremated
:
Buying a rare vinyl off eBay and realising it was the exact same scratched copy I had got rid of about a year beforehand. Oops :)
AHM : What has been your biggest challenge as a band? Have you been able to overcome that challenge? If so, how?
Kremated : The biggest challenge for any band is getting exposure outside your home town. Nobody wants to book you if they aren't aware of you, so we started grabbing shows anywhere we could to get our name known, and it seems to have paid off, as we are being asked back.
AHM : What's your ultimate direction for your band? Are you seeking fame and fortune?
Kremated : We aren't specifically looking for fame and fortune, doubly so because we know the genre we play isn't being everyone's cup of tea, but we do want to progress the band to a point where we can make enough to pay the rent. I'd rather be well known and play decent club shows fairly regularly, than shoot to the top and then look over the edge of a very steep cliff. You have to have some perspective here. Unless you are extremely lucky, the higher you go up the food chain, the more you have to sacrifice.
AHM : What advice do you have for people who want to form their own bands?
Kremated :
1) Rehearse the arse out of it before you even consider playing live.
2) When you think you are ready, you aren't.
3) You are only as good as your last show. people will remember a bad set more than a good one.
AHM : How can fans-to-be gain access to your music? Do you have a website with sample songs or a demo CD?
Bandcamp
(streaming both albums and online sales of MP3 and hard copy)
AHM : Is there anyone you'd like to acknowledge for offering financial or emotional support?
Kremated : Simon Hall and Adam Fillary for believing in us from day one.
AHM : Any last words?
Kremated : Always believe in yourself and what you are doing, but always be prepared to listen to and accept positive criticism.
News Was Posted on: 13th September, 2014